Where are we now with preschool expansion in NJ
In 2015:
The Senate Education Committee held a hearing in Trenton to focus solely on early childhood education with over 20 individuals testifying in favor of expanding New Jersey's pre-K program.
Senate Democrats named early childhood education as one of the six key policy areas in a newly announced economic investment strategy.
A bipartisan group of legislators visited a Freehold Borough school to specifically address the demand for high quality pre-K.
Senate President Sweeney and Senate Education Committee Chairwoman Teresa Ruiz penned an op-ed advocating for quality preschool expansion.
"The end goal is [age] zero to 3."

—Senate President Stephen Sweeney
"Our preschoolers' learning potential is too important to squander."

—Senator Stephen Sweeney & Senator M. Teresa Ruiz
The players:
The number of NJ community-focused and statewide organizations coming together in support of bringing NJ's existing high-quality pre-K for 3- and 4-year olds to more communities:
"What is Pre-K Our Way?"
Pre-K Our Way, accessed December 7, 2015.
(and growing)
It works.
Research conducted by the National Institute for Early Education Research (NIEER) shows that NJ's high-quality pre-K program creates long-term, sustained learning gains for students.
reduction in in-grade retention among 4th- and 5th-graders.
reduction in special education placement among 4th- and 5th-graders.
In fact, children who experienced 1 or 2 years of high-quality preschool in NJ showed greater proficiency in language arts and math in the 5th grade compared to children who did not attend this program.
This study refers specifically to students who attended New Jersey's Abbott pre-K program, compared to similar peers who did not attend Abbott pre-K. See W. Steven Barnett, Kwanghee Jung, Min-Jong Youn and Ellen C. Frede,
"Abbott Preschool Program Longitudinal Effects Study: Fifth Grade Follow-Up,"
National Institute for Early Education Research, Rutgers-The State University of New Jersey (March 20, 2013), accessed December 7, 2015.
The path to expansion:
Implement the law that's already on the books.
31 school districts currently identified as Abbott districts
(See Appendix for list)
94 districts across 19 counties who would be included in 2008 School Funding Reform Act pre-K expansion
(See Appendix for list)
The NJ Supreme Court mandated that the state establish high-quality preschool in the 31 highest-poverty school districts in the state. However, thousands of children are missing out on high-quality preschool simply because of where they live. The legislature recognized this and passed the 2008 School Funding Reform Act, which by design expanded the program to approximately 90 additional school districts, but it was never implemented. If implemented, this law would pave the way for our children to attend high-quality preschool programs that help prepare them for success in school and beyond.
If need be, the State could phase-in funding for this preschool expansion; it is critical that we get started on funding this law that was enacted in 2008.
Abbott v. Burke
, accessed December 7, 2015. See also,
"New Jersey Abbott Program,"
CLASP, accessed December 7, 2015. Under the SFRA, which was to be phased in over time, the expansion of high quality preschool was to include all three- and four-year-olds in universal districts (those in District Factor Group A & B or CD with over 40% low-income students). See
"School Funding Reform Act of 2008,"
State of New Jersey 212th Legislature (2008), accessed December 7, 2015. The number of districts that would qualify for pre-K expansion under the SFRA is 94 based on NJ Department of Education calculations (obtained through correspondence with the DOE). Due to the economic recession and competing budget interests, the SFRA was never fully funded and thus pre-K expansion did not become reality. For more, see
Jeff Bennett, "Commentary: Why NJ's School Funding Reform Act of 2008 failed and where we go from here,"
Newsworks (August 4, 2015), accessed December 7, 2015.
of NJ voters think we should be doing more to ensure children begin kindergarten with the knowledge and skills they need to succeed in school.
"New Jersey Voters Agree: More needs to be done to prepare children for success in school—and investing in preschool is the answer,"
Pre-K Our Way (2014), accessed December 7, 2015. Monmouth University Polling Institute conducted a statewide telephone survey of 800 likely voters from Feb. 26-March 5, 2014. Results have an overall margin of error of +/- 3.5%. The sample was distributed proportionally throughout the state and is demographically representative of the electorate.
We think so too.
Work by kindergarten children
who have not attended preschool:
Work by kindergarten children
who have attended preschool: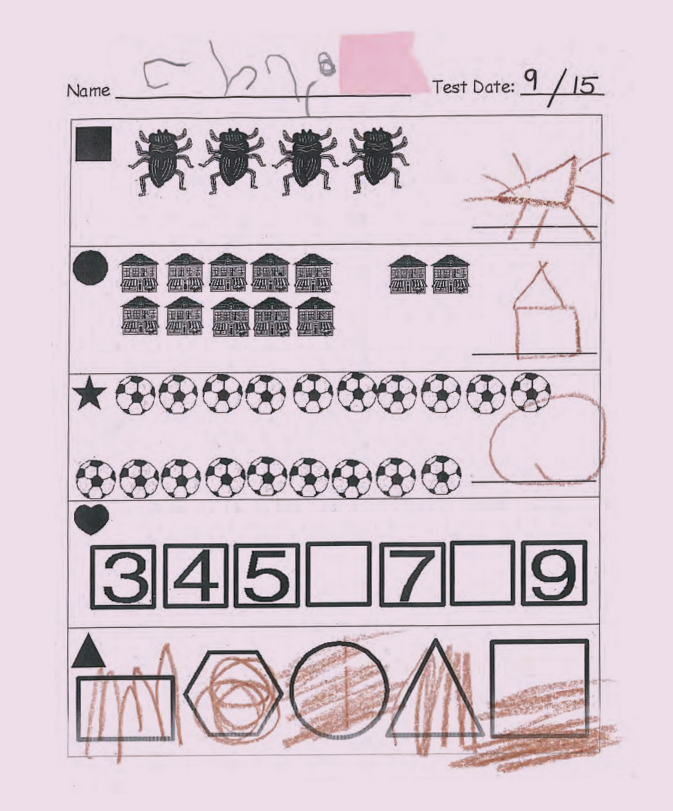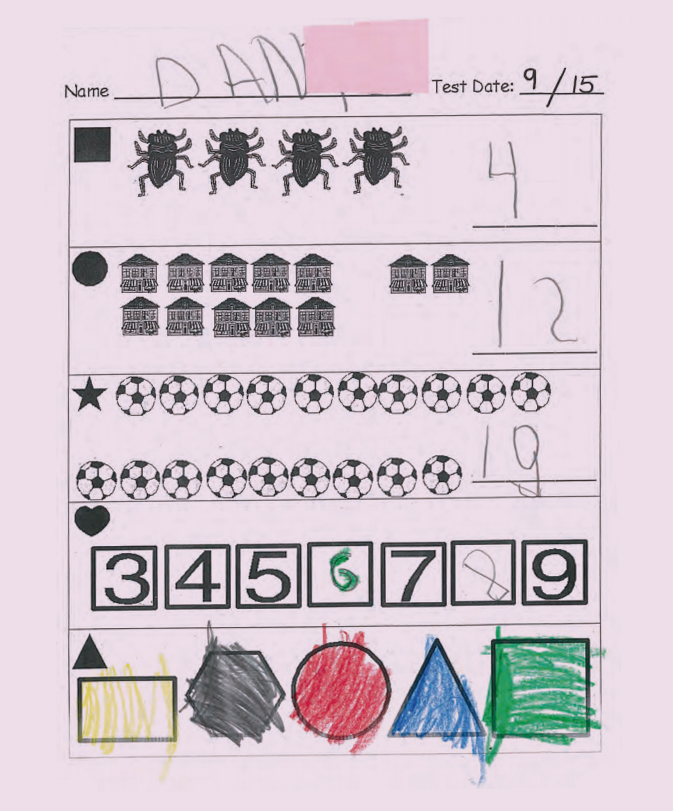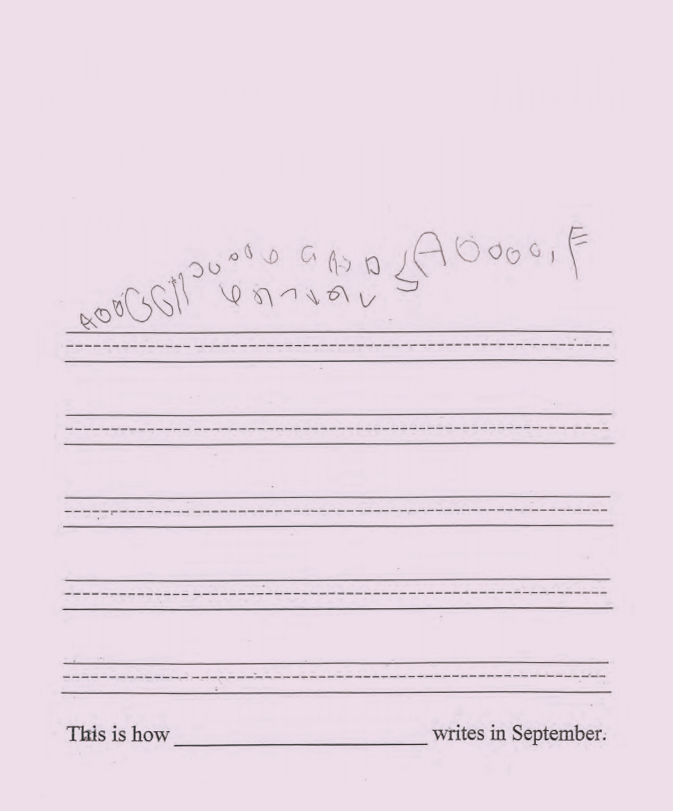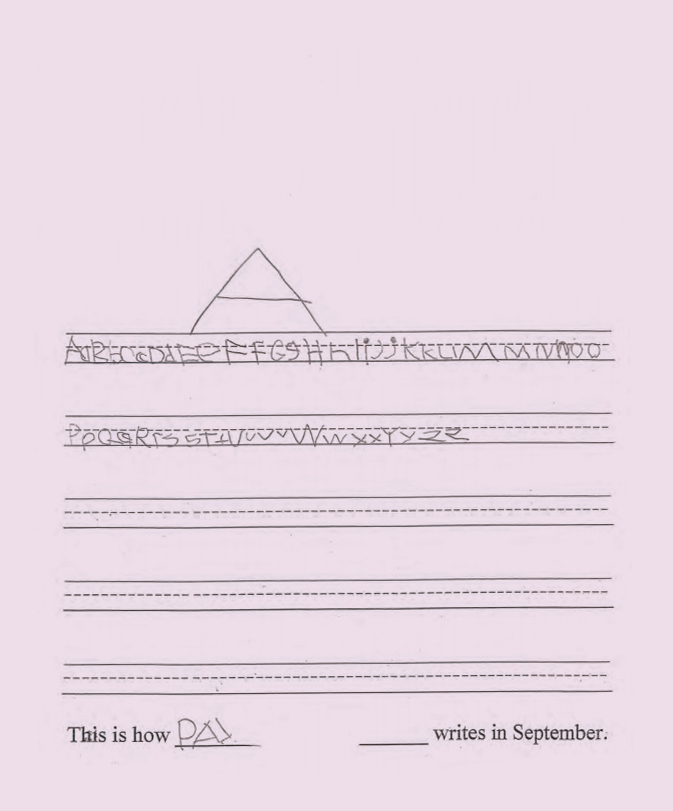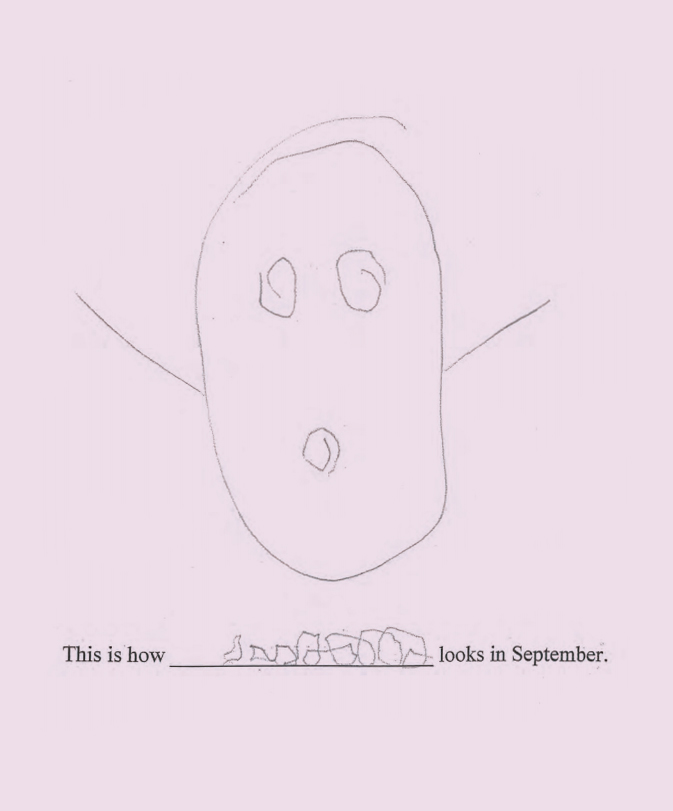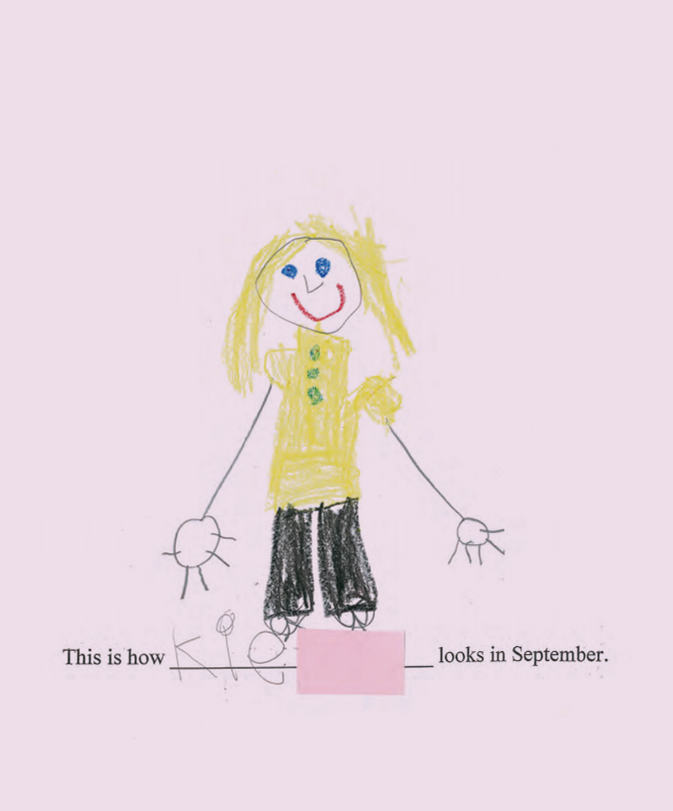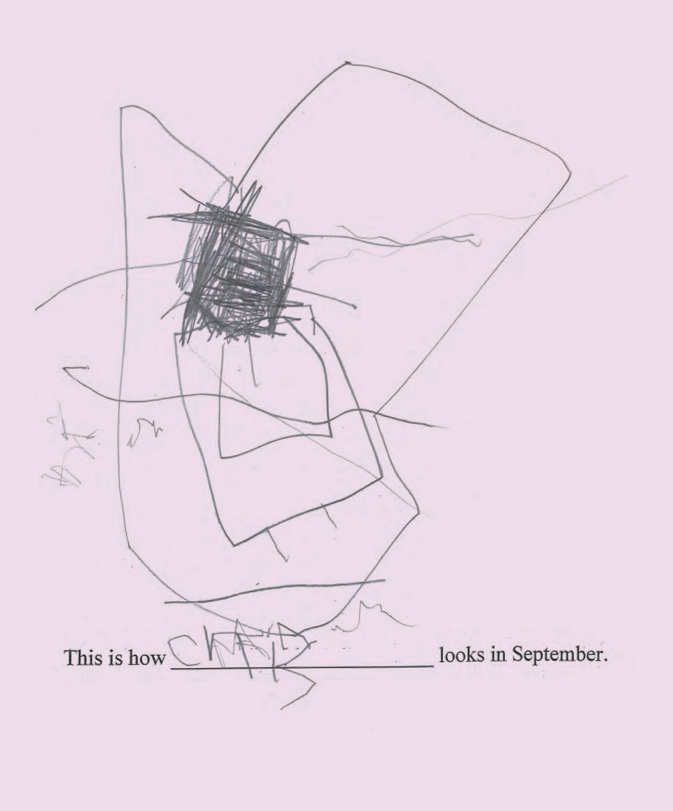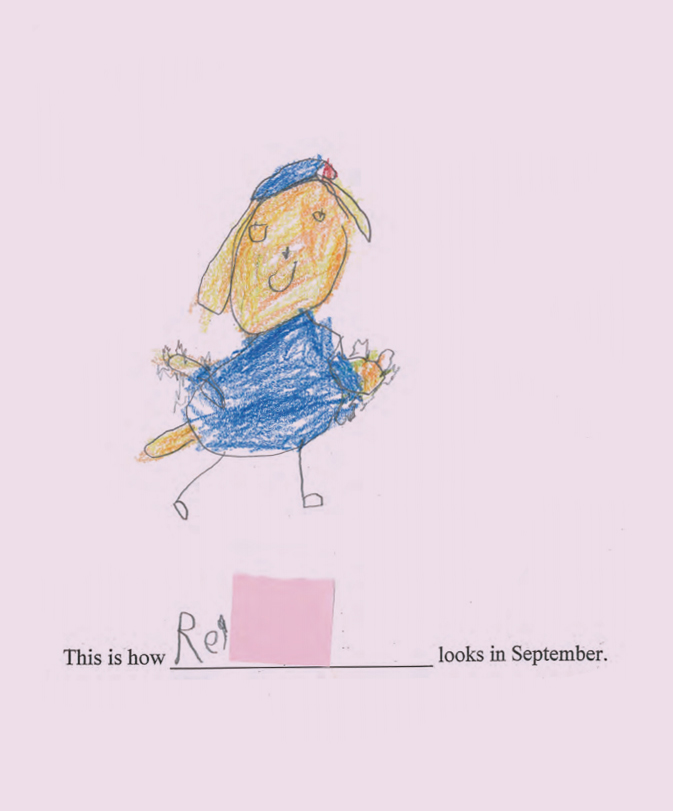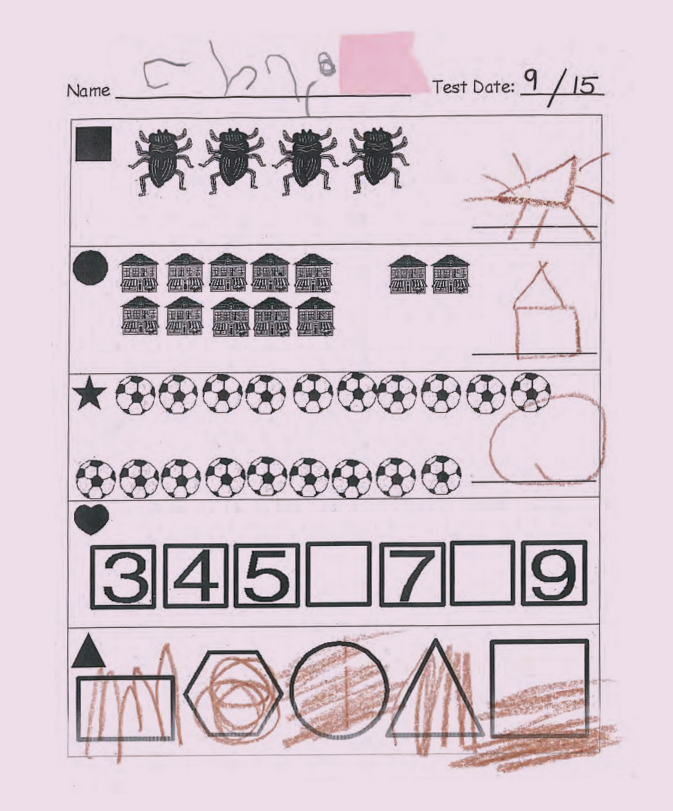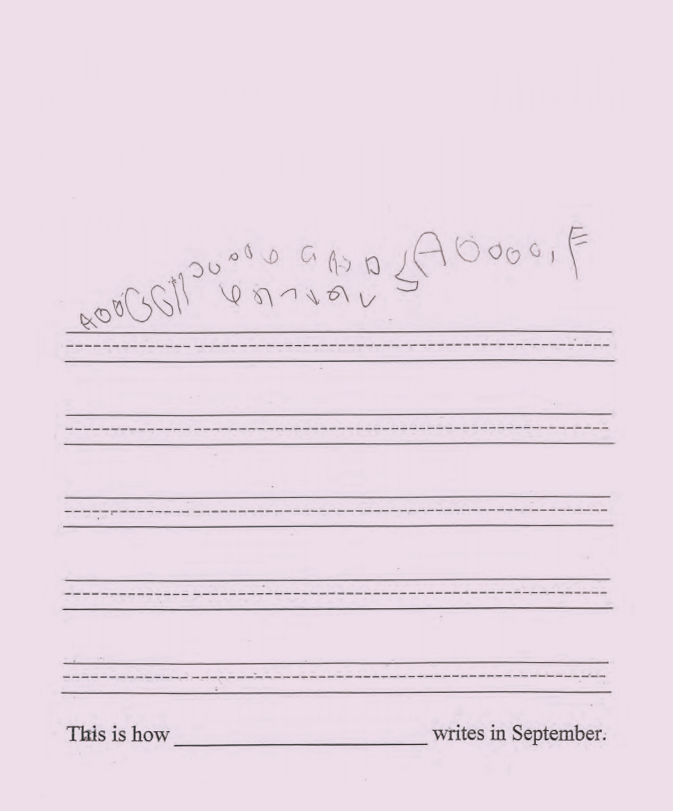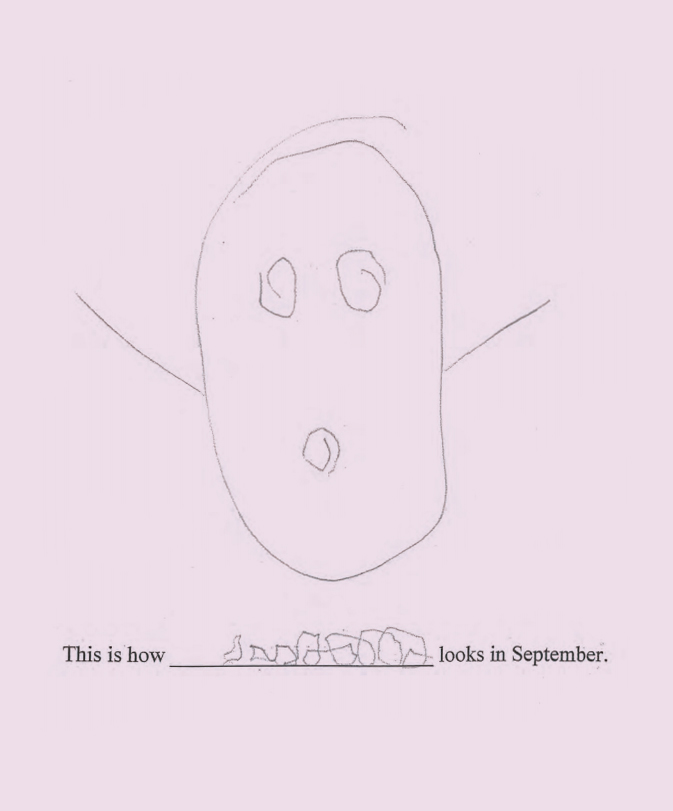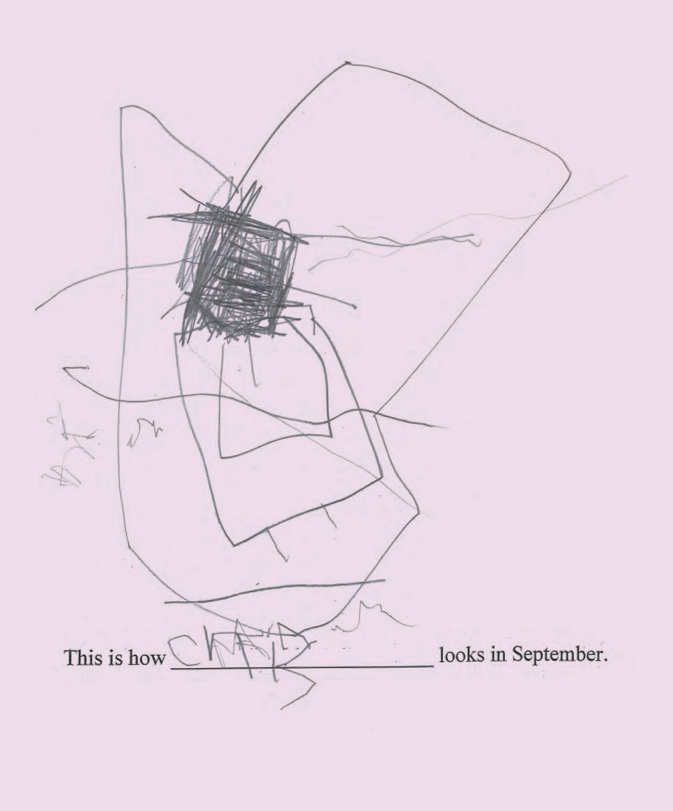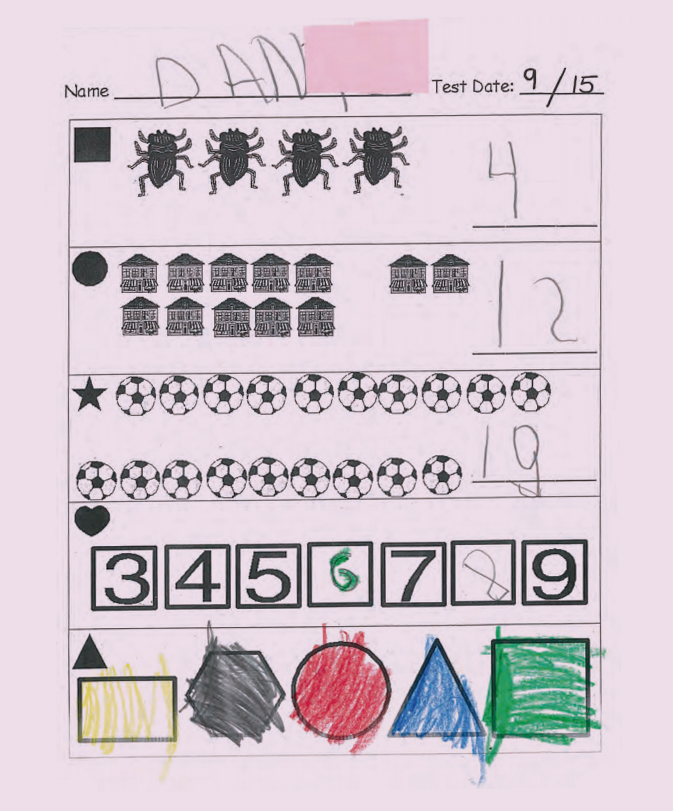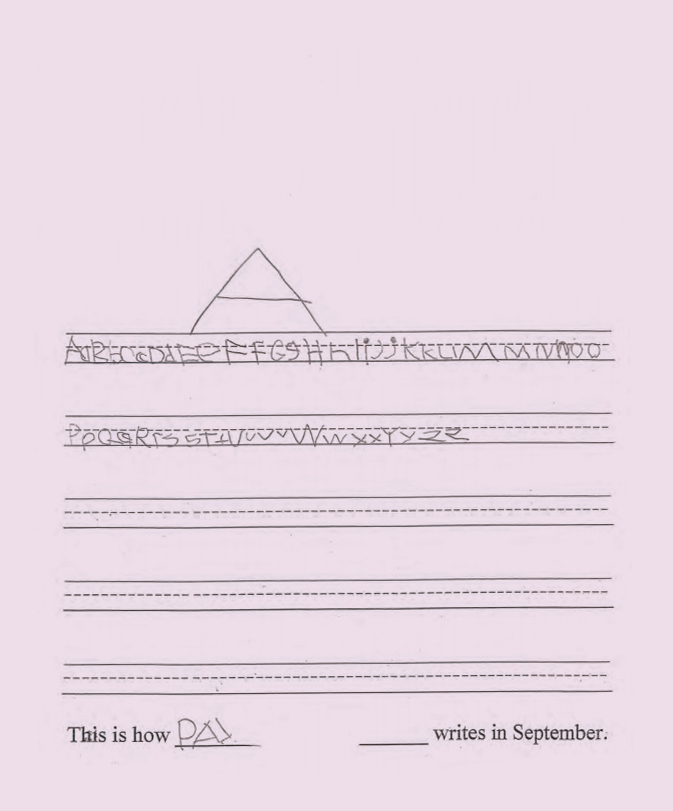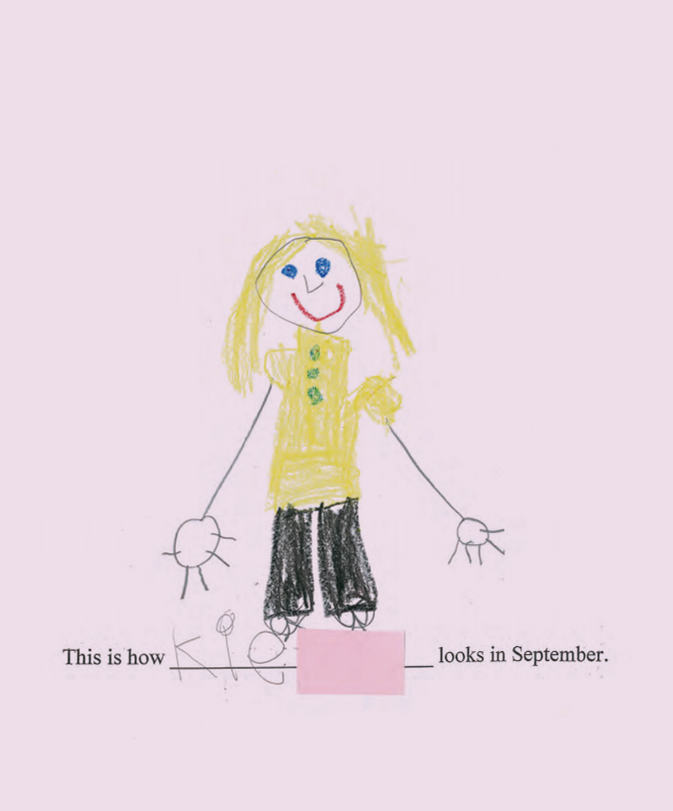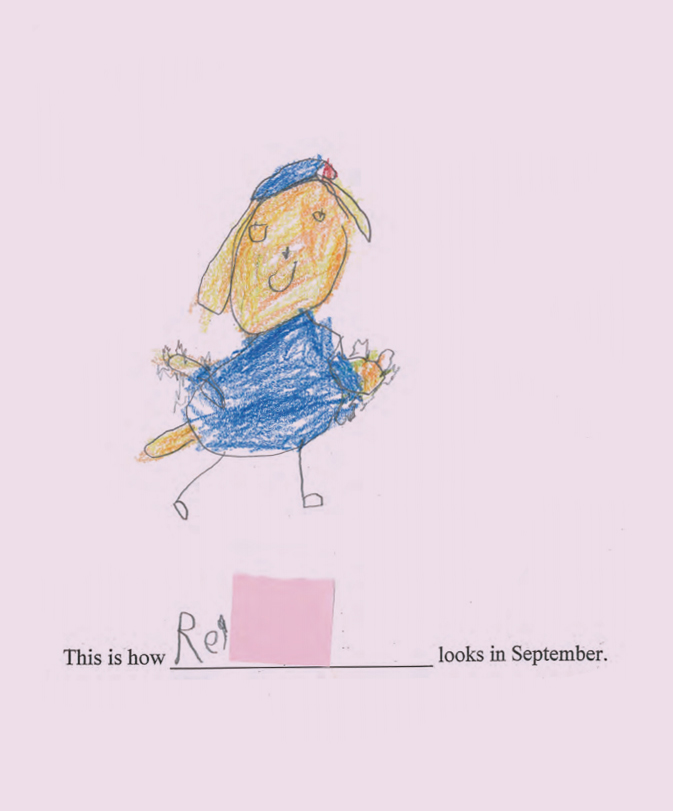 See 2015 New Jersey Senate Education Committee Testimony, submitted by Randee Mandelbaum, Freehold Borough School District, accessed December 7, 2015.
Appendix
31 school districts currently identified as Abbott districts:
Asbury Park Public Schools (Asbury Park)
Bridgeton Public Schools (Bridgeton)
City of Burlington Public School District (Burlington City)
Camden City Public Schools (Camden)
East Orange School District (East Orange)
Elizabeth Public Schools (Elizabeth)
Garfield Public Schools (Garfield)
Gloucester City Public Schools (Gloucester City)
Harrison Public Schools (Harrison)
Hoboken Public Schools (Hoboken)
Irvington Public Schools (Irvington)
Jersey City Public Schools (Jersey City)
Keansburg School District (Keansburg)
Long Branch Public Schools (Long Branch)
Millville Public Schools (Millville)
Neptune Township Schools (Neptune Township)
New Brunswick Public Schools (New Brunswick)
Newark Public Schools (Newark)
Orange Board of Education (Orange)
Passaic City School District (Passaic)
Paterson Public Schools (Paterson)
Pemberton Township School District (Pemberton Township)
Perth Amboy Public Schools (Perth Amboy)
Phillipsburg School District (K-12 from Phillipsburg, 9-12 from Alpha, Bloomsbury (in Hunterdon County), Greenwich Township, Lopatcong Township and Pohatcong Township)
Plainfield Public School District (Plainfield)
Pleasantville Public Schools (K-12 from Pleasantville, 9-12 from Absecon)
Salem City School District (Salem, New Jersey)
Trenton Public Schools (Trenton)
Union City School District (Union City)
Vineland Public Schools (Vineland)
West New York School District (West New York)
"DOE Archives: Abbott District Web Sites,"
State of New Jersey Department of Education, accessed December 7, 2015.
94 districts across 19 counties who would be included in 2008 School Funding Reform Act pre-K expansion:
Atlantic (12): Atlantic City, Buena, Egg Harbor City, Egg Harbor Township, Galloway Township, Hamilton Township, Hammonton, Brigantine, Mullica, Somers Point, Ventnor, Weymouth Township
Bergen (7): Cliffside Park, Fairview, Hackensack City, Lodi, Moonachie, Palisades Park, Wallington
Burlington (6): Beverly City, Delanco Township, Mount Holly Township, New Hanover, Riverside Township, Washington Township
Camden (12): Bellmawr, Berlin Township, Magnolia, Brooklawn, Clementon, Lawnside, Lindenwold, Pennsauken Township, Pine Hill Boro, Runnemede, Somerdale, Winslow Township
Cape May (5): Lower Township, Middle Township, North Wildwood, Wildwood City, Wildwood Crest Borough
Cumberland (6): Commercial Township, Deerfield Township, Downe Township, Lawrence Township, Maurice River Township, Upper Deerfield Township
Essex (1): Belleville
Gloucester (8): Clayton, Deptford Township, Elk Township, Glassboro, National Park Boro, Paulsboro, Westville Boro, Woodbury
Hudson (6): Bayonne, East Newark, Guttenberg, Kearney, North Bergen, Weehawken
Middlesex (3): Carteret, South Amboy, South River
Monmouth (5): Bradley Beach, Freehold Borough, Highlands Elementary, Keyport, Neptune City
Morris (1): Dover
Ocean (7): Berkeley Township, Eagleswood Township, Lakehurst, Lakewood Township, Manchester Township, Ocean Gate, Seaside Heights
Passaic (3): Clifton, Haledon, Prospect Park
Salem (2): Penns Grove-Carneys Point, Quinton Township
Somerset (3): Bound Brook, Manville, South Bound Brook
Sussex (1): Montague Township
Union (5): Hillside, Linden City, Rahway, Roselle, Winfield Township
Warren (1): Alpha Boro
Obtained via correspondence with the State of New Jersey Department of Education.